We know there are other stores that sell allergy control products.  You have many options.  So the question is why should you buy from The Allergy Store?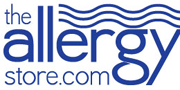 We could throw out slogans like the one Avis uses "We Try Harder".
We do try very hard to get every order right.  I would think that our competitors try hard also.  I had a boss years ago that told me "Don't tell me about the labor pains, just show me the baby". That was her way of telling me she didn't care how hard I tried, she just wanted to see the results.
We could tell you "we value your business".
Just Google that term and you will see about 193,000,000 results.   Looks likes lots of people think they value your business.
The Allergy Store Uses the Products They Sell
What you get when you shop with us is a line of products that has been tested and proven to work.  We may not have as many product lines as some of the other allergy product places, but we only carry what we would use in our own home.
So, when you call as ask "What is the difference between De-Mite and Allergen Wash" not only are you going to get an explanation, but it is going to come from someone that has actually used both products.
When you place an order with us, you aren't just a number.  You are a person.  That is why if you call us regarding an existing order, we don't ask for an order number first.  We ask you for your name.  That is why we always offer our name, so you know you are also dealing with a person.
Our shipping staff is trained to look for things that don't make sense.  For example, if you order a mattress cover and box spring of two different sizes, they will pull the order, but it won't be packed and shipped until we call or email you to make sure there is not a mistake.
We know you might be rushed or hurried when you order on-line, or it could be late at night and you can't sleep because of your allergies.  It is easy to make mistakes, that is why we review each order as it is pulled.
It is also why your shipping address goes through an address verification program before the order is processed.  It is easy to leave off a suite or apartment number or transpose numbers when you type in your address. That can cause delays in delivery or even for your package to be returned to us. We really do care that you get your order delivered without problems.
We demand high quality from our suppliers because we know you want quality.  In the rare case you get a defective item, we promptly send a replacement and get the defect in the hands of the manufacturer to determine if it is an isolated event (one bad zipper in a thousand) or the first signs of a larger problem.
We know you need information and we want to be the ones to provide it to you.  If you follow this blog, you know we are on top of research and articles that are published about allergy and asthma and share what we think you will find important.
We also listen to you.  We heard from customers that were confused about how to put their mattress cover on their bed.  We filmed a video and put it on our website.  We added an insert with a QR code to each mattress cover package that answers frequently asked questions and gives a link to the video.
When we buy something on-line, we don't like paying for high shipping charges either. That is why we work with both UPS and the USPS to find solutions that allow us to keep shipping costs down.
We are family owned, and we want you to be part of our family.
That's why you should buy from The Allergy Store.
Til Next Time!
Cheryl
©Copyright 1996-2017  AllergyStore.com™ All Rights Reserved