Fall is Duvet Season
Fall is just a few days away.  Time to get out the heavier weight duvet and pack away those summer weight blankets.  Don't let dust  mites hitchhike on your duvet.  Protect yourself with an anti dust mite duvet cover.
Anti Dust Mite Duvet Cover for Protection
It's easy to protect yourself from dust mites in your duvet.  Just put a zippered anti dust mite cover on your duvet and trap the allergens inside.  Once you put the cover on your duvet, dust mites, mold spores, pet allergens and other common household allergens will be trapped inside.  You can safely snuggle up with your duvet.  You can place it right next to your face and the allergens inside won't bother you.
What to Look for When Picking a Duvet Cover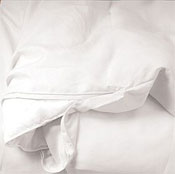 When you look for an anti dust mite cover for your duvet, keep a few things in mind.
Polyester is warmer than cotton.  If you don't want your duvet to make you too hot, choose all cotton or a cotton blend.
Dust mite duvet covers have zippers.  Some decorative duvet covers have buttons, These are not anti dust mite covers, these are merely decorative covers.  Make sure your cover has a zipper.
Look for easy washing.  Your anti dust mite duvet cover will need to be washed a time or two during the season,  Be sure to get a cover that can be easily washed.
Anti Dust Mite Covers Reduce Need for Washing
If you have a zippered cover on your duvet, it will keep it clean and fresh.  This results in fewer trips to the dry cleaner or laundry room to clean the duvet.  Your duvet cover not only protects you from the allergens in the duvet, it protects the duvet from you.  A zippered cover will keep body soil and sweat from touching your duvet.  This keeps it fresher and smelling clean much longer.
Snuggle up and keep warm
Cheryl