How often should you get new pillows? That's a good question and one many of us tend to overlook.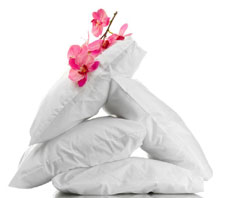 We have a habit of becoming attached to our pillows, so the prospect of tossing an old one and replacing it can be difficult. Most people we talk to say a comfortable pillow is one of the most important things to a ensure a good night's sleep. Unfortunately many of us make a crucial mistake when it comes to our favorite pillows: We're keeping them for way too long.
We get used to them, but unfortunately we're not the only ones attached to that old pillow…there can be millions of dust mites in there too, not to mention dirt and oil and dead skin cells.
Some studies suggest we replace our mattress every 5 to 7 years and pillows every 6 months. Replacing a mattress can be expensive. Some of our customers say they spent $2,500 to $4,000 for a mattress. On the other hand pillows are much more affordable.
A good indicator of whether a pillow has outlived its usefulness is by folding it. If you fold your pillow and it remains in that position then it is no longer functional and should be replaced.
There are a couple of things we recommend to our customers. You can wash some pillows in hot water to kill dust mites and remove the dirt and oil. Problem is some pillows never feel the same after being washed. The other thing we strongly recommend is encasing them with a dust mite proof pillow encasing. That will keep the cleaner, fresher smelling and allergen free. When you get a new pillow just use the same cover.
All of this can help to extend the life of your pillow but none of it represents a permanent solution to the problem. How often should you get new pillows? The answer depends on how important your health really is to you. If you want to avoid allergies, than replacing your pillow every 6 months to a year is by far your best answer.
No matter how comfortable your favorite pillow may be, it's not more important than your health. Do the right thing for you and your family and make sure you replace all of your pillows regularly. This will help keep dust mites at bay and let everyone get a good night's sleep.
Wishing you the best of health