I killed the bunny.
Have you ever failed to follow your own good advice? I did this weekend and ended up with a big mess on my hands.
We found quite a few stuffed toys that belonged to our grown daughter this weekend while we were cleaning out the garage to get ready for the community garage sale. They have been in a plastic tub for years so we thought we would freshen them up and keep some  out for our granddaughter to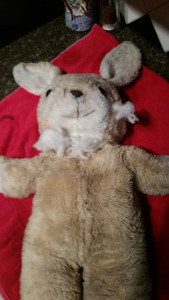 play with when she comes to visit.
Now for almost 20 years we have been telling our customers the best way to remove dust and allergens from stuffed toys is to freeze them for 24 hours and then put them in the dryer for about 1/2 hour. The freezing temperature will kill any dust mites and the dryer shakes the dust and allergens loose and vent them outside. Pretty simple to do and it does not hurt the toy.
Why didn't I listen to myself?
Well for some reason I decided the bunny needed to be washed. Needless to say it was a very dumb idea. When we opened the washing machine there was stuffing all over and as you can see, the head was almost torn off and there is a hole in the side of it's head. I even had the machine set on the gentle cycle.
Sadly there was too much damage, lost stuffing  and looking at the fabric it would not have been possible to sew it up anyway. Funny, our daughter probably had the bunny for 10 plus years without tearing it up and I destroyed it  in 10 minutes.
Please remember to freeze and dry and not wash your children's toys.
Wishing you the best of health,
Mike Krause