For 20+ plus years the staff at the Allergy Store have been helping people get control of their allergies. What many of our customer are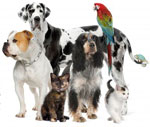 surprised to find out is that their pets suffer from allergies too.
Here is a pretty good article from One Green Planet that points out some of the things your pet may be doing that may be a sign they have allergies.  How To Tell If Your Pat Has Allergies and What To Do About It.
We have found that many of the products and suggestions we provide will also help  your pet. For example, many dogs are allergic to dust mite allergens and spraying their pet beds with the ADMS spray once a month can give them relief. You wash your sheets once a week. When was the last time you washed the pet bed?
Wishing you the best of health.
Mike