The Vital Oxide Disinfectant Spray we have used for years to kill mold and mildew is approved for use against the Ebola Virus.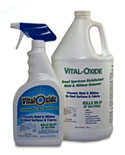 Vital Oxide meets all the Center for Disease Control's (CDC) and USEPA criteria for use against the Ebola virus on hard, non-porous surfaces.
Although the Vital Oxide label doesn't specifically mention the effectiveness against the Ebola virus, instead it gives directions for use on other viruses such as norovirus, rotavirus, adenovirus, and/or poliovirus. Follow these label directions as well as CDC guidelines for environmental infection control.
EPA's complete list of registered disinfectants meets the Center for Disease Control's (CDC) criteria for use against the Ebola virus on hard, non-porous surfaces. Click Here
CDC Interim Guidance for Environmental Infection Control in Hospitals for Ebola Virus Click Here