You can run, but they will hide is the latest bed bug article over at The Allergy Store.  It has some great tips on avoiding bed bugs. Here's a few.
The Greatest Risk
Turns out that bed bugs in movie theaters and department stores may get screaming headlines but that is because those aren't common places to find bed bugs.
You are at the greatest risk of picking up bed bugs when you travel.
Bed Bugs and Travel
Tip #1 O
f course you think of bed bugs in the bed of a hotel room, but turns out they can hide other places in the room as well.  You should check the bed before you even bring your bags into the room and only after the bed is deemed "clear".
Tip #2  Keep your suitcases out of the trunk of a rental car.  Turns out that bedbugs can be picked up on luggage in airplanes and hotel rooms and then hop off in the trunk of the car.  They just wait for the next bag to come along and grab another ride.
Tip #3  Buy hardside luggage if you travel by air often.  This style of suitcase is less likely to pick up bed bugs in the belly of the plane or during luggage transfer.
At Home Protection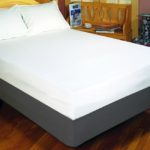 Tip #4  When you come home, never bring the suitcases inside until they have been unpacked and inspected.  Luggage should be stored in the garage, carport, or balcony until it can be inspected thoroughly.  Only after you go through the clothing carefully should you bring it in to wash.
Tip #5 To protect the bed just in case one of the little buggers slips your defenses, use an extra layer of protection with a bed bug cover for your mattress.  Zippered bed bug covers are not expensive and won't change the feel of your bed.  They will keep bugs from getting into your mattress.  You can see if bed bugs are trying to crawl on your furniture by deploying Bed Bug Defenders under the legs.  This is a cheap way to trap bed bugs before they can cause a problem.