If you only do one thing to control your indoor allergies, that one thing should be using dust mite mattress covers on your beds.
Dust mite mattress covers will protect you against the allergens in your bedroom.  The bedroom is the largest source of indoor allergens in your house.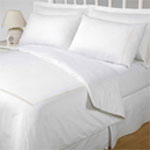 If you are on a budget and can't afford to cover all parts of your bed, start with the mattress.  Then proceed to the pillows, duvet and box spring and feather bed.
If you are interested in learning how dust mite mattress covers work and how you should take care of them, read this article  in our Resource Center.
There are many dust mite covers on the market. Don't let the number of choices overwhelm you.  Trust The Allergy Store to help you select the cover you need.